---
The CoActive Coach@aol.com
Oak Forest Il
60452
708-560-8574
708-351-3673

Inside this Issue:
From the Coach.

This Months insight.

Introducing...

This Months R&D Topic.

About the Coach.
Home
Last Months Issue
Your looking at it
Archives
coming soon
This Months
Virtual Study Group
coming soon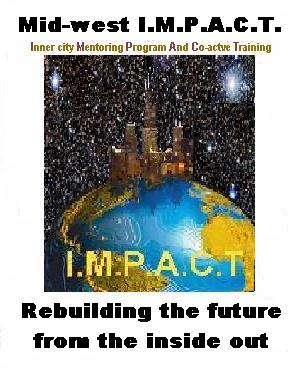 click here


click here


click here

click here


click here
---
From the Coach
It's been a long time coming, but we are finally here. I've been trying to complete this Newsletter for months. I've got a lot on my plate and with the new arrival of our baby boy, Jacob Michael Vassar, I've had more than my share of challenges.
First off, I would like to take a moment to wish every one a very happy and safe Holiday season. May you and your family be blessed with all the joy and peace that the holiday season can offer.
'The Co-active Coach' is moving forward in leaps and bounds thanks to some really great people. I would like to take a moment to recognize and express my appreciation for their support.
Lonnie Hogan, who has recently stepped forward with an interest in becoming a part of Mid-west I.M.P.A.C.T. I hope that this is the beginning of an extraodinary journey together.
Eric Gerbie, Esther Chambers and Dave Orsborn, you guys are the best. I couldn't have hand picked more supportive and motivating Buddy Coaches. Thanks for everything!
Nigel Keniry, and Bill McKenna, you two have offered a lot of creative imput and challenged me to press for clarity. Thanks.
To my wife Tracy, who has patiently and lovingly tolerated my long hours at the computer, when I should have been helping around the house. Thanks and I love you.
---
Monthly Insight.

As the holiday season approaches, many of us will be anxiously looking forward to the new year. We will be anticipating the many opportunities and challenges that await us. We will be making New Year resolutions to eat less, exercise more and quit some nasty habit that has long plagued us. But as the New Year approaches, I would like to take just a moment to reflect on the year that has passed.

It has been a year of many changes for me in just about every aspect of my life. On April 12th, my wife and I welcomed a new addition to our family. A 7lb 13oz baby boy who has since grown like a weed. He is getting so big, so fast, we can hardly keep up. In June, Mid-west I.M.P.A.C.T. Org. came into fruition. In July, my wife and I celebrated our first anniversary. Around the same time, we agreed that I should begin the slow and thoughtful steps toward a career change. And then there was the anniversary of the World Trade Center bombing.

I think that I can speak for all of us when I say that, that is a day that will be forever carved in my mind. Now, what I don't want to do here is re-hash the event that took place that day. I think that we can all remember all too well, where we were, what we were doing, and the feelings that overwhelmed us. But what I do want to do is acknowledge how that day has affected my "attitude of gratitude".

Every morning since that afternoon I have woken with a renewed sense of gratefulness. grateful for the many blessings that I have in my life. I'm grateful for my health, my family, my wife and children. I'm grateful for the wealth that I enjoy on a daily basis. I'm not referring simply to monertary assets. I'm referring to the wealth of mind, body and spirit.

My daughter calls me the "motto man". She says that I seem to have a motto for everything. Well, in keeping with that reputation, my motto for the months to come is, "Live each day with an attitude of gratitude."
When I walk into my daughter's bedroom and find that she hasn't cleaned it as she was told two days prior, I will be tempted to scold her for not doing as she was asked. Instead, I am committed to remind myself how grateful I am for her.
When my wife and I have one of those days (or should I say several), when no matter what we do, we annoy each other (of course, due to no fault of hers), I will be grateful for her.
When my seven month old son cries with that piercing scream that demands my immediate and unconditional attention, I will be grateful for him.
When I begin to get so upset over those little things that at the time seem so important; I am committed to remind myself about how much I have to be grateful for.

My New Years resolution isn't to eat less and exercise more, but to take less for granted and appriciate more. to "live with an attiitude of gratitude".
Happy holidays,
George "Joe" Vassar


---
Introducing...
Eric T. Gerber
Discovery or Creation?

Everyday people are searching for new answers to age-old questions.
What is the meaning of life?
How can I become more than I currently am?
Am I on the right path?
Is she or he the right person for me?
Is my career the right one?
Where can I find happiness?
There are two paths to choose from in pursuing these inquiries:
1) you can seek to discover the answers, or,
2) you can create the answers.

The first method requires you're willing surrender to an exhaustive process of questions and answers, where each answer leads to a new question. This path is tedious and time consuming and in the end it leaves you with no clearer sense of direction than when you first began. The latter method focuses on action. Without action there can be no creation. Action enables clarity and definition to enter into your life, it is the catalyst that will take you beyond questions. Action leads to a life full of creation, where you are the creator of all your life experiences.

If you'd like to learn more about how to use the power of creation in your life, please contact,


Eric T. Gerber, JD,
Life Coach
847-370-1260
email:egerbie@aol.com.
---
This Months R&D topic

I'm in the process of putting together five Complete Coaching Packages that are 'Focus specific'. One of the topics is, "Identity".
These are simply a few of the questions that came to mind when I was beginning this project.
Does the client really know who they are?
Do they know their strengths and weaknesses?
Are they clear about what inspires them?
What obstacles do they cling to?
Are they aware of how they may have created their situations / problems / circumstances?
Is the client at a place in their lives where they are able to 'own' the responsibility and accountability for their present situation?
Are they making conscience choices or are they simply a function of social paradigms?

My questions to the R&D team are:
Is this an interesting topic to broach with our clients?
If so, how do we effectively present it?
Would clients be interested in clarifying their identity?
Would this topic make for an interesting Tele-Class, Coaching Package, etc.?
If so, why or why not?

The R&D Team will be conducted by Email: TheCoActiveCoach@aol.com. If you would like to call for a free one (1)hour introduction to the Package, or to simply discuss it, Call 1-708-560-8574 or 1-708-351-3673 This is my first time prompting a R&D Team, so please, if you have any suggestions or direction, I'm open.
---
How it all started.
George J. Vassar is the Founder and President of 'Mid-west I.M.P.A.C.T. Org', and the Solopreneur of, 'The Co-active Coach'. He has been working in the Department of Corrections for the past nine years, three of which he spent inside maximum security.
"In the three brief years I spent in maximum security, it became clear to me that jail had become more than just a holding tank for pretrial detainees. It had evolved into a sort of "sub-cultural existence". Inmates would meet their family and friends in lock up, shake hands and swap stories as if it were a annual reunion. Sons and daughters would visit their fathers behind three inches of glass and speak through reinforced metal screens just as their fathers has done before them, and their fathers before them. In short, what I was watching was a revolving door of third and fourth generation detainees. It is easy to understand why the Department of corrections had become a multi-million dollar industry. What I couldn't understand was why there were so many willing participants."
Over the past five years, Sgt. Vassar has been assigned to the local Impact Incarceration Program, most commonly referred to as Boot Camp. As a Drill Instructor he had the opportunity to work more closely with the young men incarcerated in our correctional facility. As a recently promoted Sergeant, he has had the opportunity to experience the many challenges facing the staff and administration.
I've come to realize my ability to impact the lives of these young men by teaching them the skills necessary to exercise their personal power. One week, during an Inservice Training class conducted by SERA Learning Center, I met a young lady by the name of Laura. Laura was studying to be a coach through CoachU. She told me about coaching, and I told her about I.M.P.A.C.T., a long held dream that has come from a desire to contribute to solutions rather than treat the symptoms. I told here about my idea for a, "Creative Workshop" and an "Optional Platoon Life Skills Curriculum" that I was hesitant to present to my administration for approval. After patiently listening for while, she turned to me and said, "Those are great ideas! Thats inspiring! Do it George, just do it! What's the worse that could happen?" She was so right! What was the worst that could happen? Thats all it took! Those simple words of encouragement and affirmation inspired the momentum I needed and I haven't stopped since. I never saw Laura again after that week, but if this Newsletter were to some day reach her, I would want her to know that she planted a seed that day. Her inspiration became the catalyst that inspired me to become invested, involved, challenged and most importantly, it fueled the desire to inspire others."
G. Vassar is a graduate from the SAIC with a BFA. He is certified through the United States Army Military Police School as a Rehabilitation Instructor. He has been awarded a Department Commendation and Letter of Recognition. As a Certified Personal Trainer, a Life Coach, a Mentor and Life Skills Instructor, he works with an extremely diverse client base. George, or "JOE", as he is most commonly called, enjoys working with those who are receptive and motivated to transform their environments, accomplish their goals, and design a fulfilling life.
Begin the journey today
Subscribe to 'The Alliance'
FREE Monthly Newsletter.

Send a blank Email and type "subscribe" on the subject line. No names are sold or given to outside companies. They are only for the use of providing you with future Newsletters.